1. Getting organised.
Although I'm a Virgo, you might be surprised to know I'm really not all that organised. I live in pretty much what I call "organised chaos" most of the time. I really appreciate clear, functional spaces, but I have a terrible time trying to maintain them. Maybe it's because I'm a tortured artist, or maybe it's because I'm a Mum. Either way - I'm enjoying plotting out my days in my
2014 Frankie journal
, and the feeling I get when I do accomplish organisation of some sort.
2. Handmade toys.
Although Miss 5 is obsessed with Lalaloopsy dolls and My Little Ponies, I do love finding one-off, handmade toys for my kids to play with. I certainly can't make everything myself (I can't sew for the life of me!) but I am always on the look out for fun DIY things to make with the kids. Today I stumbled upon one of Merilee's latest tutorials over at Mer Mag which I thought was pretty cute:
I absolutely love the colours she used on these stacking house blocks!
3. Iced coffee.
Is having at least one iced coffee a day classed as an addiction?
My home-made recipe:
1 tblspoon instant coffee powder/granules
1 tblspoon raw sugar
ice
milk
ice-cream (optional)

Dissolve coffee + sugar in a few drops of boiling water, add ice to cool the water down, top up with milk and add a scoop of icecream on top.
Confession: Lately I've also had a few Macca's coffee frappes. I don't even want to know the calorie content of those bad boys!
4. Vlogs.
In those rare, quiet moments when the babies are asleep - I can get out the paintbrushes and watch trash tv. Lately, I've swapped the trash tv for youtube vlogs. Among my faves this week are:
grav3yard girl
and
dailyBUMPS
I would love to find a full-time Artist/Mummy vlogger. Are there any out there??
5. booko.com.au
Someone recommended this link (via Twitter I think?) the other day and I love it! It gives you the best price (incl. postage) on books or dvds across nearly all bookseller websites.
6. Art by Daniel Merriam
I stumbled upon this artist on
Facebook
, and I'm completely in awe of his use of colour and intricate details. Mesmerizing.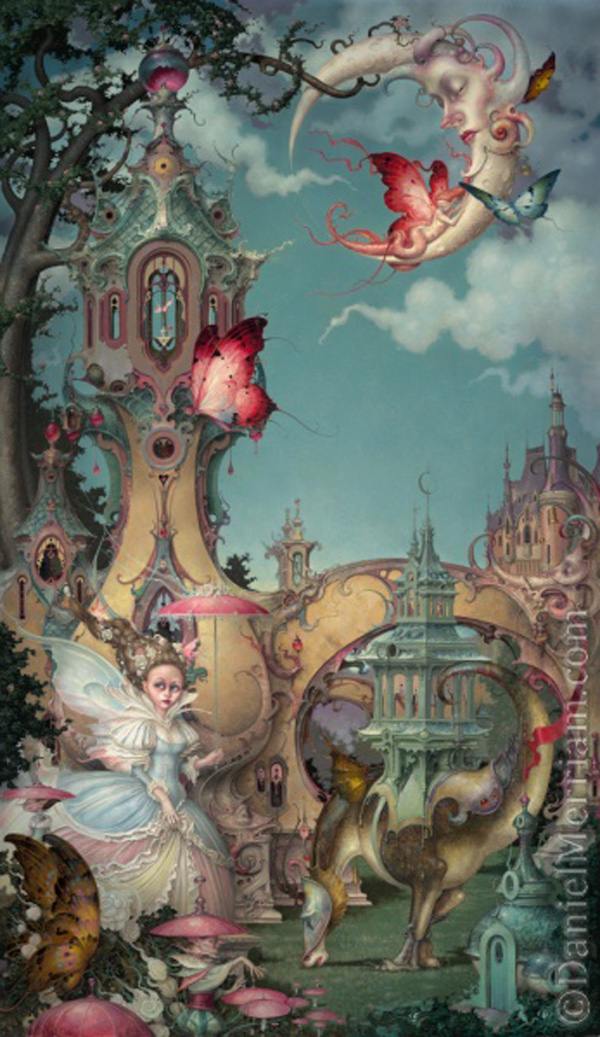 That's all for now. I have 2 crazy little creatures to attend to. Dinner to make.
Commissions
to work on later tonight. :) Hope you're all having a nice week!